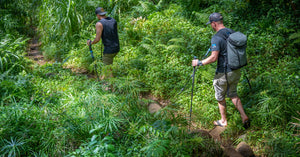 Learn how PürTrek is Giving Back
Impacting Lives Through Adventure and Sustainability
At PÜRTREK, our mission is more than just providing innovative high-quality outdoor gear – it's about making a positive impact on the world. A percentage of each PürTrek purchase made goes right back to conservation efforts.We believe that adventure and sustainability go hand in hand, and that by promoting environmental stewardship and social responsibility, we can make a difference in the lives of others.
We're committed to giving back to the environment and the communities we serve, which is why we donate a portion of our profits to organizations that share our values. From supporting conservation efforts to promoting access to clean water and sanitation, we're dedicated to making a positive impact on the world.
In addition to our financial contributions, we're also advocates for the environment and people in need. We use our platform to raise awareness about important issues, such as climate change, environmental degradation, and social inequality. We believe that by educating and inspiring others, we can create a more just and sustainable world for all.
"We believe that by leading by example, we can inspire others to adopt more sustainable practices and protect the planet for future generations." Team PÜRTREK
At PurTrek, we're more than just a brand – we're a community of adventurers and outdoor enthusiasts who share a passion for making a difference. Whether you're a seasoned explorer or a first-time adventurer, we invite you to join us in our mission to impact lives through adventure and sustainability. Together, we can create a brighter future for all.
1% For The Planet Member
As members of 1% for the planet, PürTrek gives at least 1% of all profit to help environmental causes like combatting climate change, wildfire aid, reducing plastic pollution, and more!
Join our mission, as we grow with your support our donations and impact will.