Sorry, there are no products in this collection.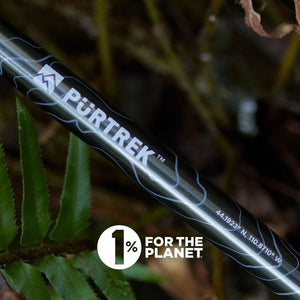 As members of 1% For The Planet, PürTrek donates at least 1% of all profit to environmental causes.
Don't take our word for it
★★★★★

Using the Purtrek was impressive, from the lightweight minimalist design, to the smooth and simple operation of the water pump.
★★★★★

I was really surprised when I saw how much water it purified in on pull. This is going to be a huge time-saver on the trail!
★★★★★

When the product launched on Kickstarter I jumped at the chance to get a set. I recentyl recieved my order and the product exceeds my expectations, which were high. The poles feel solid in hand and the pump function and output is outstanding!
★★★★★

This will be the perfect gift for my dad on Father's Day! He is going to absolutely go crazy when I show him how it works!
★★★★★

These innovative dual-purpose trek poles are just what every outdoorsman needs! No more time wasted or awkward positioning at the watering hole. Just dip, pump, and slurp! Quality built and durable. Quite satisfied.
★★★★★

The Purtrek put a water filter inside a hiking pole. Genius!
Outdoor Innovation, 5 Years In The Making
PURTREK'S Founder and team of dedicated outdoor industry designers, engineers and manufacturing partners spent the last 5 years developing this product.
With multiple prototypes and patents that would stand up to the test of regular outdoor use. What is now completed is an extremely high-quality durable product we have come to know our great outdoor brands for. PurTrek's was developed in several different versions until this final version was engineered and designed in Salt Lake, Utah.